Packaging
The Ilou brand is also all about the variety and convenience of its packaging !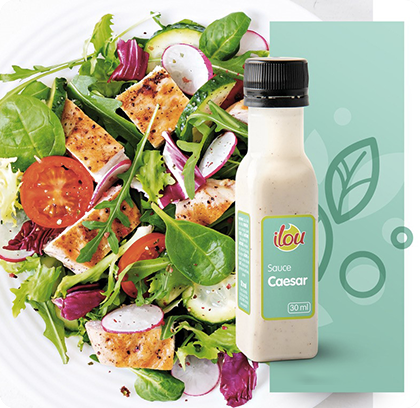 Portions of individual sauces
The monodoses of sauces of the brand Ilou will find all their place at the table for dipping, take-out and self-service. Stick sauces are an ideal format for takeaway sales and/or self-service (available in bulk or service box). Ilou also offers sauces in cups, ideal for dipping and taking away in fast food. Ilou sauces are a range designed to season salads. Sauces in pods are a convenient format for raw vegetables and salads.
Portions of individual sauces
Large containers
Ilou brand's large sauce containers are designed to meet restaurateurs' expectations : sauces pouches, doypack and many other packaging. Most Ilou sauces are available in Squeezes, an ideal size in the kitchen with an easy dosage thanks to its pointed cap. Larger formats, such as drums, buckets and dispensers, allow for higher throughput for catering professionals.
Large containers